Acid Sampler
?>
Brand :BRT
Product origin :China
Delivery time :in 7 days after payment
Supply capacity :300 pcs / month
Liquid Sulphuric Acid, Nitric Acid, Hydrochloric Acid or Other Liquid Corrosive Acid Sampling Cans, Laboratory PTFE Acid Anti-Resistance Sample Beakers
Reasonable price Sampler for liquid acid Quotes, High quality PTFE Sampler vessel Wholesalers, Buy Anti-Corrosion Sampler Quotes
Acid Sampler
Model: BSQ
Sampler for liquid acid also named Triacid sampler, made of Teflon, resistant to high temperature and acid-alkali corrosion, low friction coefficient, easy to clean.The bottom is equipped with weighting, which is convenient to collect the liquid with higher concentration. Upper sampling port. The controlled bottle stopper ensures the accuracy of the sample.
The product is used to obtain sample of Sulphuric acid, Nitric acid, Hydrochloric
acid or other liquid corrosive acid product.
Specification:330ml、500ml、1000ml。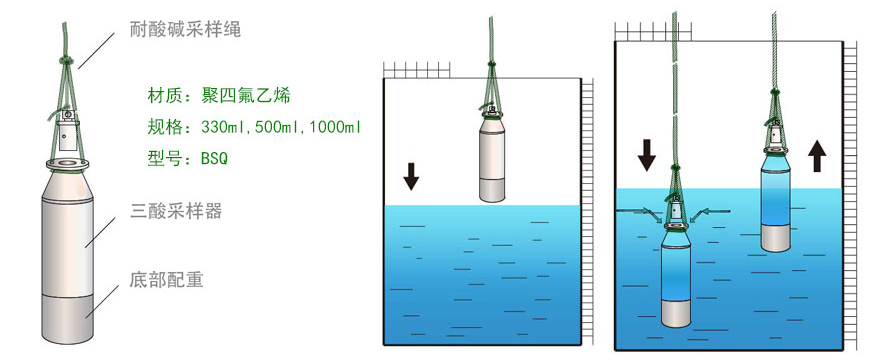 Application Method:
The Product composed of a sampler body and a controllable stopper.The upper part of the bottle has a uniform circular hole. Insertting acid-resistant sampling rope into the circular hole to connect the bottle and stopper.When used, putting the triacid sampler slowly to the required depth for sampling, pulled acid-proof sampling rope to make stopper open, lift up the sampler to complete sampling.


Model:BQS-Z/D Triacid Replace/Bottom Sampler
We also produces triacid type replacement/bottom sampler, as shown in the left figure;Please refer to BQH/BQD type sampler.
In addition, we can also produce various fluorine material sampler of different function.
Get the latest price? We'll respond as soon as possible(within 12 hours)