Camlock Oil Tanker Bottom Sampling Valves
?>
Brand :BRT
Product origin :China
Delivery time :in 7 days after payment
Supply capacity :30 pcs / month
Easily assembled & installed, this transportable Camlock Oil Tanker Bottom Sampling Valves is contained in a sturdy case and well sealed from contaminants.
Camlock Oil Tanker Bottom Sampling Valves
Model:BGDQ-Y
Quality control sampling of delivered fuel or oil is a key component of any good fluid management program. Obtaining a representative fluid sample from an unloading tanker, however is often difficult due to lack of an appropriate line sampling valveS on the tanker or in the site filling lines.
Camlock Oil Tanker Bottom Sampling Valves is appropriate for sampling at the unloading port of oil tank truck, such as sampling of gasoline, diesel, ethanol, component oil and other liquid petroleum products.It is also suitable for sampling in oil depot, oil station, storage tank and equipment pipeline.

It can effectively ensure the accuracy and safety of sampling, truly reflect the quality of oil in the tank; It completely avoids all kinds of potential safety hazards
caused by traditional sampling methods.No need to contact with toxic or harmful media during operation, which ensures the safety and health of operators.
This product conforms to ASTM D 4057 and ISO 3170, GB/T 4756 "petroleum liquid manual sampling method", GB/T 6680 "general principles for liquid chemical products".
Camlock Oil Tanker Bottom Sampling Valves is available in either DN50 or DN80 (Can customized), which is installed directly at the tanker camlock and joins to the unloading hose. Allowing for a truly representative sample to be taken of the unloading fluid.
Quick Coupler: Fast connection with unloading port of tanker.
Sampler Body: Measure the amount of samples flowing out.
Exhaust valve: When oil enters the sampler, it is convenient for air to be discharged.
Sampling valve: Obtain oil sample.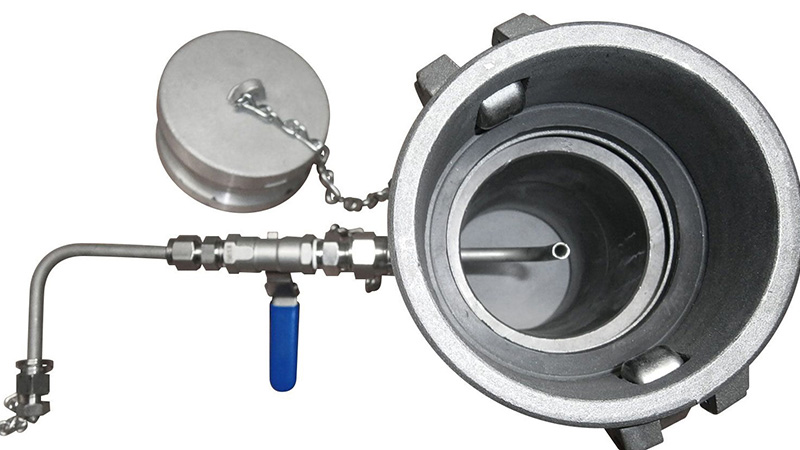 Method of use:
1. The sampling capacity of oil tanker bottom sampler is 1000ml.
2. When sampling, remove the sealing cover first, then connect with unloading valve at the bottom of tanker.
3. Make sure Exhaust valve and Sampling valve: are closed, and confirm quick coupler is tight again.
4. After above operation, open oil unloading valve of tanker, then close the valve immediately.
5. Open the Sampling valve. At this time, oil flow into the sampling container, then, open Exhaust valve. When no oil flows out, close Sampling valve and Exhaust valve.
6. Remove and clean sampler, complete sampling.
Sealed Sampling Device (Sealed Sampler)
Petroleum Gas Sampler (Gas Sample Storage Cylinders)
Get the latest price? We'll respond as soon as possible(within 12 hours)