ASTM D323 Vapor Pressure of Petroleum Products Sample Transfer Container
?>
Brand :BRT
Product origin :China
Delivery time :7 Working Days
Supply capacity :1000pcs/month
ASTM D323 Reid Method Gasoline and LPG Vapor Pressure Sampler, Stainless Steel Petroleum Products Crude Oil Sample Transfer Container
Sample Transfer Container of Vapor Pressure
Model: BQQY

The product is conforming to ASTM D323 and GB/T8017<Standard Test Method for Vapor Pressure of Petroleum Products (Reid Method)>.
Vapor pressure is an important physical property of volatile liquids. It is used to determine the vapor pressure at 37.8 °C (100 °F) of petroleum products and crude oils with initial boiling point above 0 °C (32 °F).
This product is suitable to remove liquid sample from the sample chamber.


| | | | |
| --- | --- | --- | --- |
| Material | Capacity | Size | Weight |
| Stainless Steel | 1000ml | 108*70*150(tall)mm | 0.885Kg |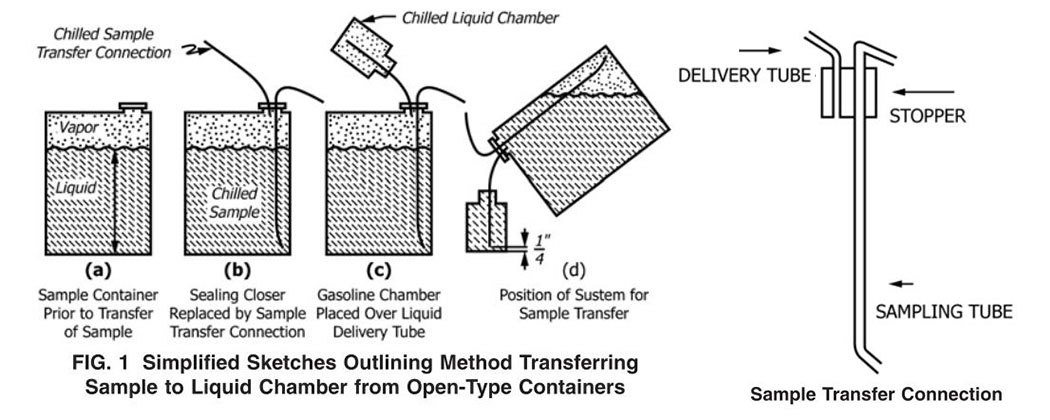 Sample Transfer:
Remove the sample from the cool-ing bath, uncap, and insert the chilled transfer tube. Remove the liquid chamber from the cooling bath, and place the chamber in an inverted position over the top of the transfer tube. Invert the entire system rapidly so that the liquid chamber is upright with the end ofthe transfer tube approximately 6 mm (0.25 in.) from the bottom of the liquid chamber. Fill the chamber to overflowing (in addition to other precautions, make provision for suitable containment and disposal of the over-flowing sample to avoid fire hazard). Withdraw the transfer tube from the liquid chamber while allowing the sample to continue flowing up to complete withdrawal.

Sample Transfer Connection:
This is a device for removing liquid from the sample container without interfering with the vapor space. The device consists of two tubes inserted into a two-holed stopper of appropriate dimensions to fit the opening of the sample container. One of the tubes is short for the delivery of the sample, and the other is long enough to reach the bottom corner of the sample container.
Get the latest price? We'll respond as soon as possible(within 12 hours)