Representative Sample Oil Sampling Thief for Zone Samples
?>
Brand :BRT
Product origin :China
Delivery time :7 Working Days
Supply capacity :1000pcs/month
Viscous Coking Oil Representative Sampling Cans, Brass No-Spark Liquid Petroleum Products Manual Sampler in Tanker
Representative Sample Zone Sampler
Mpdel: BQC

The definition of Sample Types: According to ASTM D4057
Composite Sample:
A sample prepared by combining a number of samples and treated as a single sample.
Representative Sample:
A portion extracted from the total volume that contains the constituents in the same proportions that are present in that total volume.
Zone Sample:
A sample taken as that part of the liquid column that is trapped within the whole height of a sampling device when it is sealed at a single spot location within a tank after having been fully flushed as it was lowered to that position.

Zone Sampler is named Composite samples Sampler, conforming to GB/T 1999 <Sampling Method of Viscous Coking Oil Product>, ASTM D4057 and ISO 3170<Petroleum Liquids-Manual Sampling>. It has the advantages of accurate sampling and convenient use.
It is suitable for sampling wood preservative oil, carbon black raw oil, cleaning oil, anthracene oil and fuel oil obtained from coal gas condensate when High temperature coking. We can use this type Oil Zone Sampler to get composite sample, representative sample and zone sample from tank.


| | |
| --- | --- |
| Material | Stainless Steel, Brass |
| Capacity | 1200ml |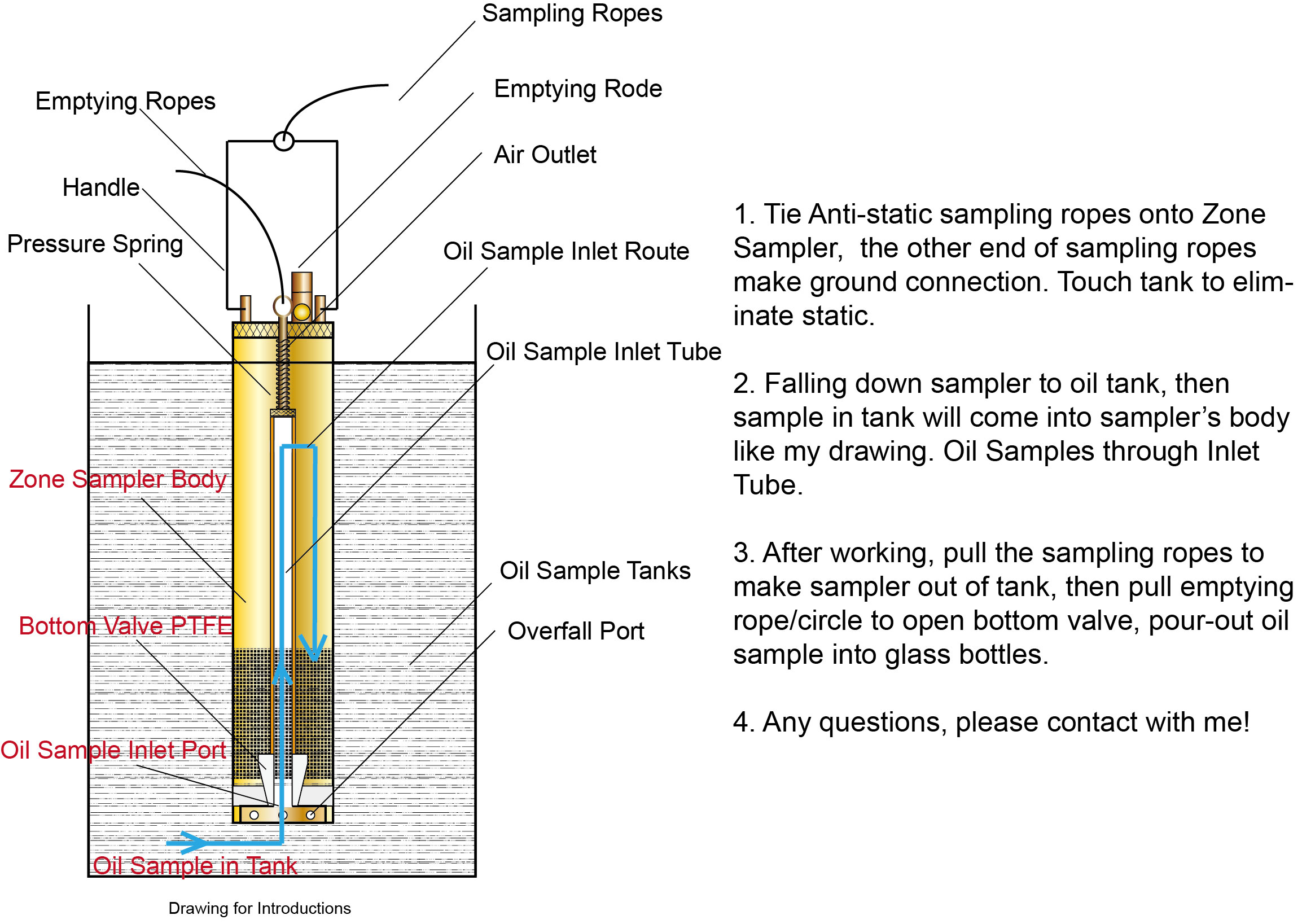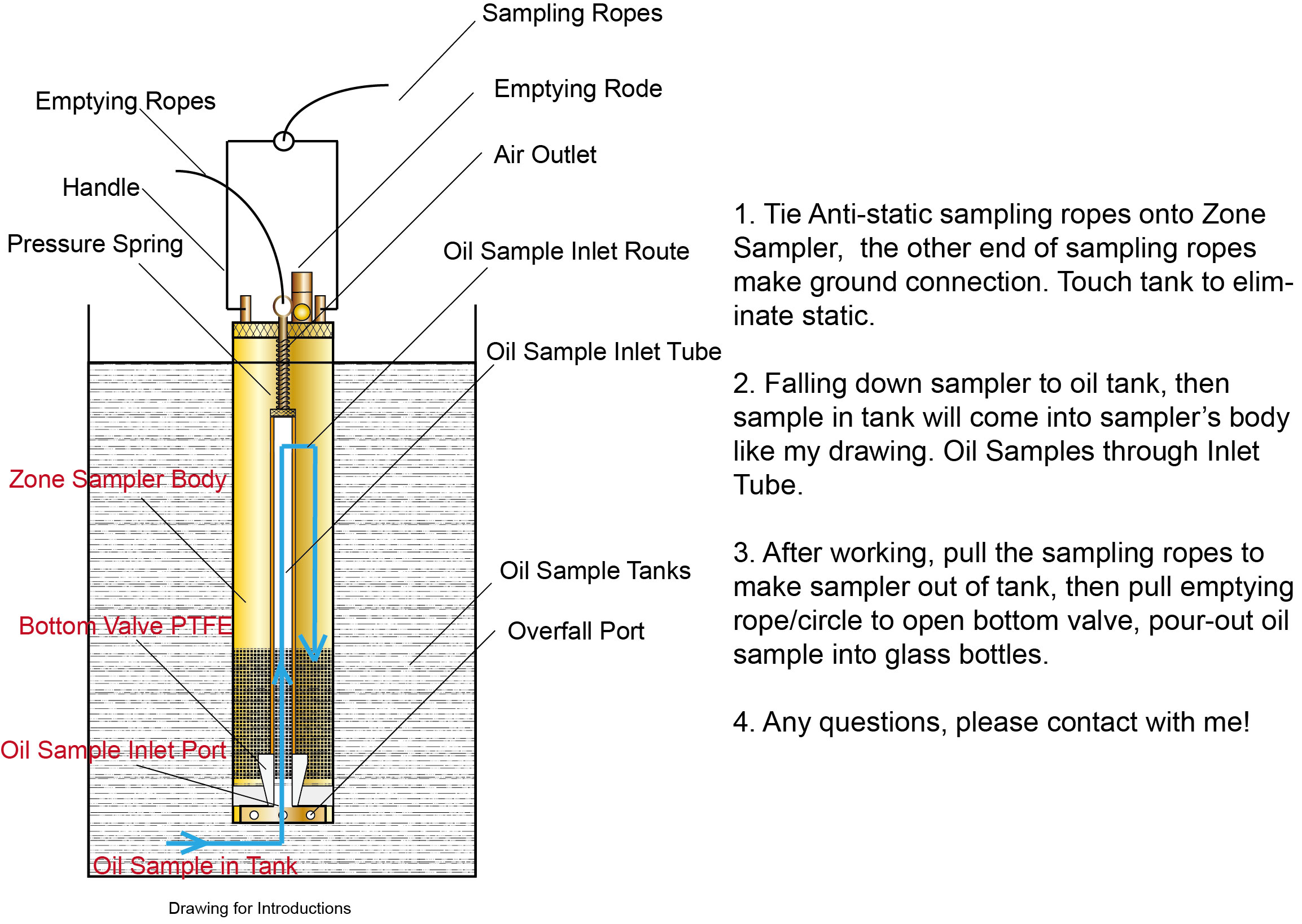 Introduction:
This series of BQ() Products are conforming to GB/T 4756<Sampling Method for Liquid Petroleum Product>, GB/T 6680<General Practice for Sampling Liquid Chemicals>, ASTM D4057 <Standard Practice for Manual Sampling of Petroleum and Petroleum products> and ISO 3170<Petroleum Liquids-Manual Sampling>.
At room temperature (safe oil product temperature), It is suitable for sampling non-volatile non-toxic and harmless liquid petroleum products at locations such as oil tank, tank car, oil tank car, oil tanker and process pipeline. It is easy to use, safe and durable, No change for oil component.
The liquid petroleum sampling bottle series can be sampled at the bottom, lower, middle, upper, surface, spots, all-levels, composite sample etc. It meets different sampling requires for users.



Material to Choose:
1. The 304 stainless steel material has remarkable corrosion and oxidation resistance, It has a exquisite and durable appearance. Food grade material is suitable for food oil or other petroleum products has no corrosion to SS.
2. The brass sample bottle is not easy to spark, and it is suitable for oil sampling. It not only ensures the personal safety of the operators, but also eliminates the potential safety hazard caused by the spark.

Technology, All Samplers Have No welding:
This series of products adopt stamping and stretching forming and metal tight fitting technology to overcome the problem that welding sampler is easy to leakage oil.

Material: Stainless Steel, Brass
Specifications: 330ml, 500ml, 1000ml
Get the latest price? We'll respond as soon as possible(within 12 hours)