Liquid Petroleum Products Multi-Levels Self-Sealing Oil Weighted Sampler Thief
?>
Brand :BRT
Product origin :China
Delivery time :In 7 days after payment
Supply capacity :3000 pcs / month
ASTM D4057 Weight Multi-Levels Self-Sealing Sampling Beaker, Representative/Upper/Middle/Lower Sample Collecting Container,Brass Material No-Spark, No Welding, No Oil Leakage. Laboratory Petroleum Oil Sample Cans in Tank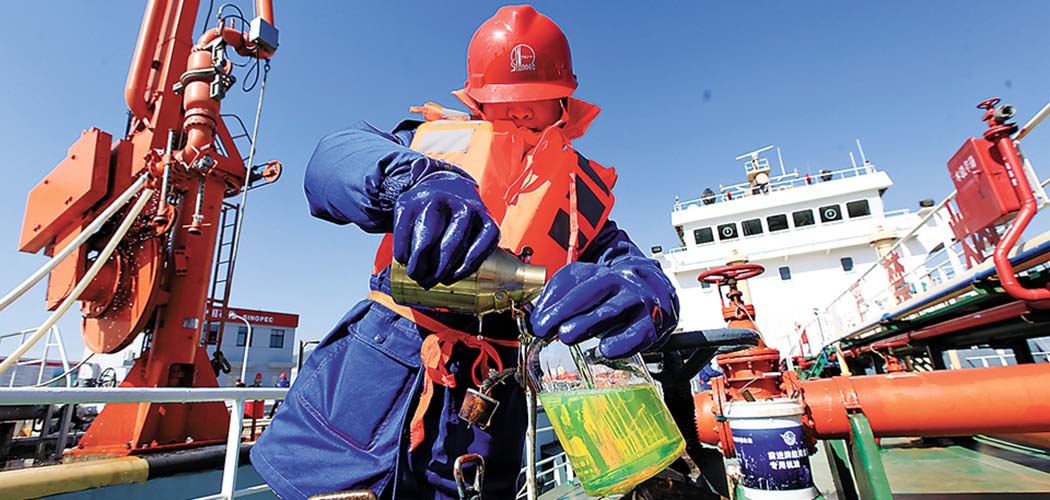 Multi-Level Self-Sealing Sampler
Model: BQKD

1. Suitable for collecting fixed-points sample in tank/cans
2. Making bottle opening and closing manually at designated spot
3. Stamping and stretching forming, Punch Forming, No Welding, No Leak4. 1.5mm wall thickness
5. Sampling at up port
6. Close Bottle's Stopper Auto after Sampling in tank




Multi-Level Self-Sealing Sampler, also named Floater Fixed-Points Weighted Sampling Beaker, and Oil Controlled Sampler. brass material, made with one-step forming technology, No welding, No oil leakage.
Applicable to sampling the petroleum products that are in liquid state at the atmospheric pressure and normal temperature (safety temperature of oil) at different depths of oil tanks, vessels, tank trucks, oil tankers and pipelines etc.


Capacity: 330ml; 500ml; 1000ml
| | | | |
| --- | --- | --- | --- |
| Capacity | 330ml | 500ml | 1000ml |
| Weight(kg) | 1.04 | 1.3 | 1.765 |
| Size(mm) | 67*180 | 73*210 | 88*250 |

The bottom has additional weight separately which is isolated from the sampling space inside the sampler. Doesn't contaminate the sample, thus ensuring the purity and accuracy of the sample. It is easy to use and will not change the oil sample.




Multi-Level Self-Sealing Sampler also referred to as Controlled fixed-point sampler or Weighted controlled sampler etc,Upper inlet sample. This product complies to the national standards GB/T 4756 <Sampling Method for Liquid Petroleum Product >, GB/T 6680 <General Rules for Sampling Liquid Chemical Products>,and ISO 3170<Petroleum liquids -- Manual sampling>, ASTM D4057<Standard Practice for Manual Sampling of Petroleum and Petroleum Products>.
The sample can be accurately collected at the designated point when sampling in tank, and the oil inlet can be automatically closed after sampling to ensure the purity of the sample.

Characteristic:
With detachable containers opened at the required depth by a snatch valve which reseals when the container is full;
Brass material, no spark, avoid the safety accident caused by electric spark;

Sampling Process:
1. Before sampling, please operator connect the sampler with ground by anti-static rope to eliminate static electricity.
Then laying sampler down slowly .
2. Slowing down until to the sample depth in the sampling medium.
According to the length of the anti-static rope, the operator can judge whether to arrive at the sampling depth.
3. Now,operator should rise anti-static rope upward quickly to make the snatch valve opened.
At this time the sampler as shown in figure is full,it will reseal.
4. Pulling up the Multi-level Self-Sealing sampler, then operator sent it to analysis room.
Sampling process is finished.



Keywords:
ASTM D4057 Weight Multi-Levels Self-Sealing Sampling Beaker, Representative/Upper/Middle/Lower Sample Collecting Container,Brass Material No-Spark, No Welding, No Oil Leakage. Laboratory Petroleum Oil Sample Cans in Tank
Get the latest price? We'll respond as soon as possible(within 12 hours)