Manual Sampling Spear Drug Powder Thief with Variable Volume
?>
Brand :BRT
Product origin :China
Delivery time :7 Working Days
Supply capacity :1000pcs/month
304/316 Stainless Steel, Inner Rod and Outer Sleeve, Variable Volume Tip, Removable for Easy Cleaning
Quantitative Powder Sampling Probe Thief
Model: BTZ-D
Quantitative Sampling Probe conforming to GB/T 6679<General Practice for Sampling of Solid Chemical Product>. It is used for taking designated locational sample of drug powder, small particles or small crystal chemical products.
The sampling probe is composed of stainless steel outer tube, connecting inner rod and quantitative sampling modules. Specification optional and removable.
It is extensively used throughout the pharmaceutical, chemical and food industries around the world. The Powder Thief is suitable for sampling free flowing powders and granules. A range of tips(Sampling Module) are available so that a single sampler can be used to accurately sample a range of different volumes.

The Powder Thief is easy to use. Simply push the sampler into the powder and push down on the handle to take the sample. The
body can then be moved to close in the sampler. Remove the sampler and empty the tip.

Feature:
1. QUALITY- Made from a high quality chemically resistant 316L/304 stainless steel
2. BIG CHOICE - Wide range of sampler lengths (600mm to 1200mm) with a wide range of tips. Choose the length that suits you. Tips are interchangeable with the same body
3. Tips - Various sizes can be attached to the same body to allow different volumes to be sampled. Special short or very long samplers are available on request - please ask for details


| | |
| --- | --- |
| Outer diameter | 19mm, 22mm, 25mm |
| Length | 600mm, 800mm, 1000mm, 1200mm |
| Volume | 0.5ml, 1ml, 2ml, 3ml, 4ml, 5ml |

Sampling Method:
1. Select the correct Quantitative Sampling Module to complete the installation.
2. Ensure that the tip(Sampling Module) is inside the sampler body(Outer Sleeve). Insert it into the powder sample source.
3. At the required depth, Rotate the inner rod to unlock, let Sampling Module exposed. Powder will flow in around the tip(Sampling Module).
4. After sampling, rotate the inner rod backward to lock. Withdraw sampler, Pull up body to release the sample.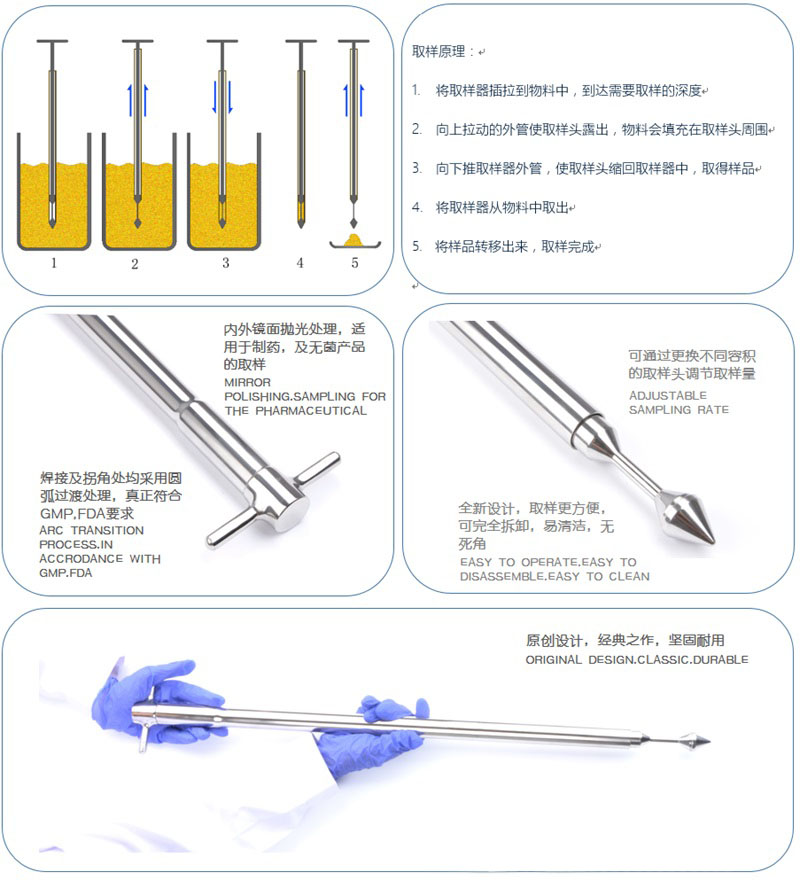 Get the latest price? We'll respond as soon as possible(within 12 hours)